tonight at Honey Lounge - 455 abbot street at pender street downtown.

we are on first at around 10pm. i am giving away the rest of the merch and everyone will get a free ornamental etherworld cd

see you there

alyson
vonnegut dollhouse's LAST SHOW EVER
september 19th is talk like a pirate day, ahoy, mateys!


i'm selling my queen size 4 poster canopy bedframe

it just goes around the bedframe and does not hold the mattress/boxspring off the ground. it attaches by way of screws to one of those existing bedframe things with wheels

it has a burnished bronze/wrought iron look, meaning it's black with subtle bronze details.

this has been my dream bed since i was a little girl, but my dream boat doesn't like it! i put sheer curtains on the rods, which ensconces the bed, making you feel like absolute royalty!

i've taken it apart so i don't have pictures, but i'll dig around and see if i can find some. it's really nice.

i am going to sell it for $150. i bought it new in jan 07 for $250. it's worth a lot more but i got it factory direct. it's in used/good condition meaning there is a bit of tape residue here and there from when i taped the rods together when i moved. they can be easily removed with murphy's because i gather whoever buys it is going to want me to tape the rods together for them, too.

get in touch if you're interested or know anyone who is.
hello



For people who aren't fans of staying out late and those damned noisy rock clubs, this is a performance you sure won't want to miss!

Some choice Vonnegut Dollhouse tunes, some tasty original material and a couple rad covers will be played, also look out for a couple duets from the short-lived side project concept band "Bread Savage" (songs based on Fred Savage movies) days.

WHERE? The Black Frog cafe, 108 Cambie Street, Vancouver, BC
WHEN? 4 pm, Sunday, August 24th
COVER? Probably not - but the proprietors of this establishment may ask that you purchase food or drinks while you enjoy the music.
Alyson Fun & Ozmuir, the vocalists from your favourite band Vonnegut Dollhouse will be playing alone and together on their acoustic guitars on Sunday, August 24th at 4pm.
Current Music:

indie pop rocks! on soma fm
come out and see me! if you haven't seen me in a while I've lost 30 lbs... so that oughtta motivate you out of curiosity alone!
here's the facebook event:
http://www.facebook.com/event.php?eid=39409214376
there is a poster and everything there as well. please invite as many people as you can if you plan on coming. we need a lot of money to pay for our recording in august, so the more people come to the show, the better. we're essentially fundraising ourselves out of several thousand dollars debt right now
my band is playing this friday, at the railway club
Current Music:

indie pop rocks! on soma fm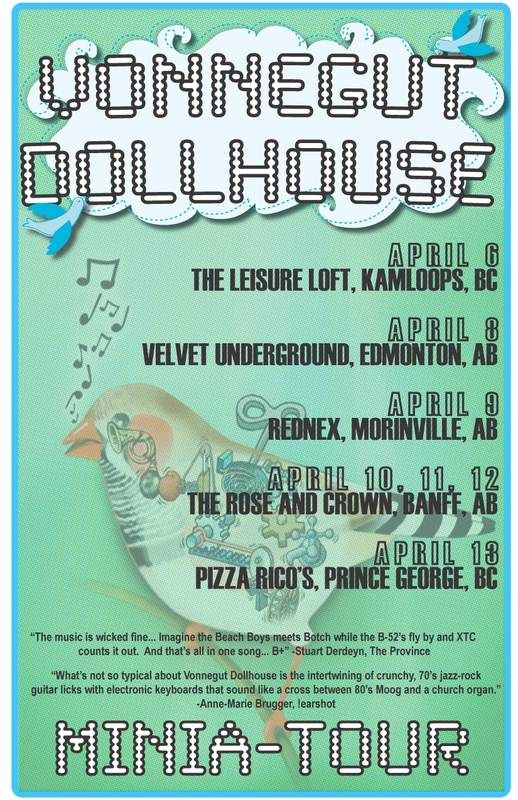 This is magical.
The Juno's are tonight. Our cd didn't win, but it was nominated for best album artwork. Arcade Fire won! They're awesome, so it's okay.
:)
Love you all very much. My life has been a whirlwind as of late. i'll blog about tour, either on here or on the myspace blog.
Alyson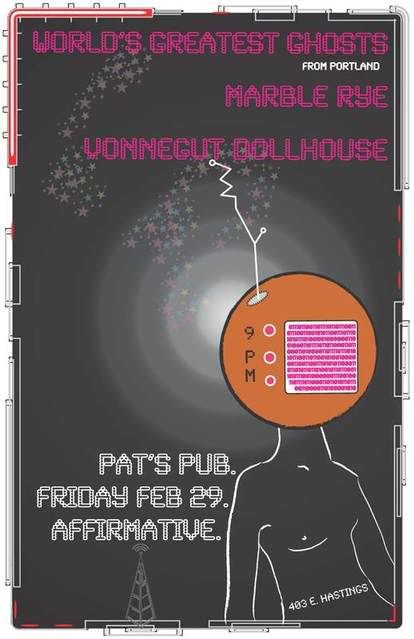 The amazing, energetic and FUN synth-pop-post-punk-rock radness and madness that is the Nashville-cum-Portland family of WORLD's GREATEST GHOSTS will be here on tour from Oregon and playing with us at Pat's Pub (403 E. Hastings)
http://www.myspace.com/worldsgreatestghosts
The soulful, motown-esque, boy on girl on boy on boy harmonies, handclaps, encouraged singalongs and sax-amaphone solos atop a nicely put together hearty serving of rockin' riffs, thumpin' basslines and dance-able drums with catchy piano sprinkled all within a tight performance makes for the awesome loaf of music that is Marble Rye.
http://www.myspace.com/marblerye
See you there!
Vonnegut Dollhouse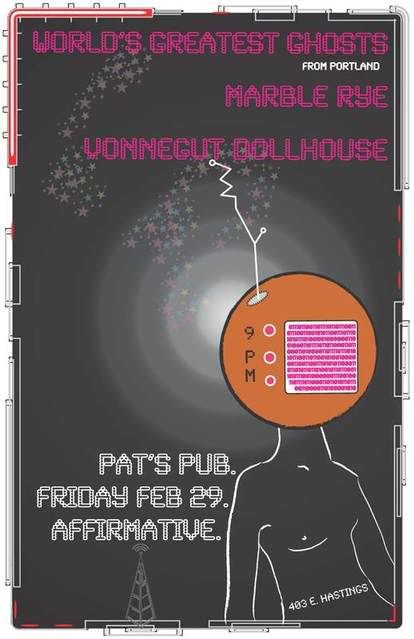 Current Music:

logan's run
It's our friends Jump Rope for Heart's first show!
and our friends Jeremy Stewart & The Rest are down here all the way from Prince George to treat us all to lovely tunes!
http://www.myspace.com/jumpropejumprope
http://www.myspace.com/jeremystewartmusic
http://www.myspace.com/vonnegutdollhouse
***Music begins at 9 and ends at 12***
This takes place at Hoko's Karaoke Sushi Bar, an all ages venue (with a bar) at 362 Powell Street, Vancouver.
Hope to see you there!
p.s. friends, vonnegut dollhouse's cd was nominated for a Juno award (artwork design category)
We are playing a very very special show this Saturday night!
Current Music:

jump rope for heart